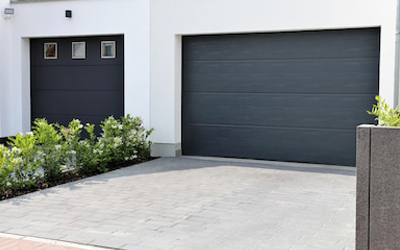 Single panel and sectional are two primary types of garage doors. A single panel garage door come in a large piece while the sectional garage doors are equipped with separate panels. The majority of the people goes with the sectional garage doors as these seem to be convenient. On the other side, the single panel door has many benefits to use it. Still, people prefer the sectional garage door as it all depends on their cost and usability.

Here are some factors to find the difference between these two types of garage doors and make you easy to choose anyone.
Appearance
Both types of overhead door come in a variety of designs and attractive material. The sectional door has the layout which includes the segment to facilitate your door work properly. On the other hand, the single panel garage doors hold the section with several beautiful options. People have older homes most prefer to use the single panel garage doors. While homeowners who look for the vintage appearance they prefer the modern homes.
Functionality
As compared to sectional doors, the single panel doors are available with better cost and appearance. But, the sectional garage door has the modern features which offer more safety than another one. Moreover, the sectional door's smaller opening clearance makes it suitable for a fix in the small space scenarios. It is also a better option for extreme weather condition.
Which Should I Buy?
Both types of garage doors have their strengths and weaknesses. The summary stated above may compel you to buy the sectional garage door. But remember:
The sectional garage door suits if you:
Need a bigger selection
Need durability
Want low maintenance
A single panel door suits when you:
Plan installation by your own
Want to improve an older home
Having a low budget
Still, if you have any question, don't hesitate to contact Peel Garage Doors. We are your locally owned and operated overhead door company in Brampton specialize in residential and commercial garage door installation and maintenance services.