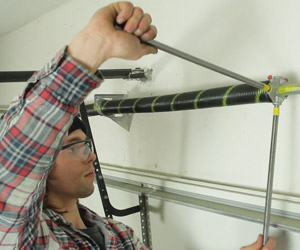 Garage door spring creating noise or broken? Springs attached to garage door can fade over time and pose problems. However, it is strictly not a DIY job. Call garage door spring repair professionals in Brampton from Peel Garage Doors. We repair both torsion and extension springs in addition to a wide range of other spring mechanisms for overhead doors.
Overhead Door Spring Repair Service
Garage door spring is the ideal solution for the modern day convenience. Nor only it is automatic but also electrically operated through an opener. So, you have the best of both world's when you choose to install a modern day garage door. At the same time, this convenience can pose danger if not handled properly.
Spring Repair is not Do-It-Yourself
Garage door springs are known to contain a lot of potential energy for movement of the door. Thus, they are in highly stretched form so that they door's weight can be easily lifted. Spring replacement, therefore, requires the expertise of the professionals. A snapped spring can cause fatal injury if not handled professionally.
We highly recommend the services of a professional repairman to replace or repair garage door springs. Our team has all the right equipment to safely repair and perform spring replacement. If you hear strange noise when operating the door and spring seems to be the culprit, you should immediately call our technicians for help.
Types of Garage Door Springs
Most of the overhead doors come loaded with two common types of garage door springs namely extension and torsion springs. The standard springs are torsion which most of the manufacturers use in their entire range. These springs are located above the head near the operating torsion shaft. These springs are easy to notice in case of faults since they produce more noise. Extension springs are located horizontally on the garage door side with tracks on either side. They are operated using a pulley mechanism and are generally more silent compared to torsion. They balance out the stretching door during entire door travel.
Choose Peel Garage Door Services for Spring Replacement in Brampton
Our garage door spring replacement services in Brampton are highly affordable, responsive and efficient. We have a range of vehicles ready to be deployed at any emergency in the local area. We have a reputation for using only genuine spare parts along with high quality installation.