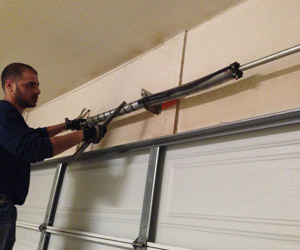 Cables in the garage door represent the life line of the entire system. They are the ones lifting the load of the door in a balanced manner. The whole operation of lowering and lifting of the door is dependent on the strength of the cable. No wonder that most homeowners keep a track of their performance and often notice any lags which can cause delay.
Broken Garage Door Cables Repair
Considering the load they lift every day, these cables are bound to be frayed or loosen with time. Any untoward movement in the garage door indicates that the door is suffering from cable mismatch. A monthly inspection from a technician can identify the faults. Sagging of cable is the most common cause for sidewards movement of the door.
How to Recognize the Faulty Garage Door Cable
There are many potential signs that home owners can check to identify a problem causing cable. Treat all these signs as potential warnings that cables may need replacement or even comprehensive repair. Some such warning signs are:
Worn out cables, frayed cables, or stranded cables

Swinging cables
Cables with loose connections to the springs

Door does not operate due to lose cable
Often home owners ignore the warning signs resulting in huge expenses in repairs. A little attention paid on time can save hundreds of dollars in replacement. Whenever you notice any signs of wear and tear, you can simply give us a call to repair or replace the cables at the earliest.
Emergency Service
Same day emergency service is the key characteristic of our firm. We, at Peel Garage Doors, deliver quick garage door emergency repair services in Brampton region. After repair, your overhead door will perform like new.
Never attempt to repair garage door cable all by yourself. Also, do not try to remove the cable since it may be in high tension meaning tightened significantly. So, you should always look for a professional to repair or replace the cables. Our technicians can also guide you about more safety tips for the garage door operation and parts to ensure the optimum performance throughout the door's life.