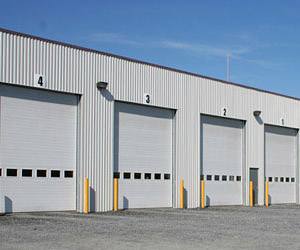 Complete Range of Commercial/Industrial Garage Door Repair
At Peel Garage Doors, we keep in stock a wide range of commercial and industrial garage doors that match the requirements of various industries. We sell and install commercial garage doors in Brampton region. The long list of satisfied clientèle reflects the strong trust our clients share with us.
Our range of overhead doors are available in numerous styles, colors and aesthetics. The aim is to not only help perform the job efficiently but also add to the aesthetics appeal of your business premises. We have a team of highly qualified and experienced professionals that ensure your project goes as planned. Quality workmanship along with performance, durability and aesthetic appeal delivers your office building the much needed upgrade.
Get in touch for a quote on Commercial Garage Doors Today.
Why Choose Us?
In industrial setups, the garage doors can serve a wide range of purposes. Unlike homes, commercial garage doors are usually built from sturdy steel or aluminum and are also heavier and longitudinally higher. These doors are apt for large vehicles or production facilities. For example, in car wash or industrial warehouses, garage doors are usually a combination of many doors that can cover a wide area.
Industrial garage doors are the ideal solution in bad weather to keep the business humming. Our installation professionals are the right people to consult when it comes to providing the performance and safety you require in your business's premises. We respect the fact that every business is unique. Thus, our professionals aim to deliver a solution that best suits your individual requirements.
Commercial Door Repair Services in Brampton
Our extensive range of repair and maintenance services in Brampton is well reputed for providing affordable and quick repair solutions. We know that commercial operations are not to be halted for even a minute. Every minute costs the company money. So, we have fast response vehicles fitted with all the necessary equipment required for completing the job. Faulty commercial garage doors are repaired 24/7.
Our Commercial Services
Commercial roll up garage doors

Commercial garage door springs

Sectional steel insulated doors

Preventive maintenance for industrial doors
Industrial garage door tracks repair

Commercial garage door openers

All makes and models repaired

And, more!