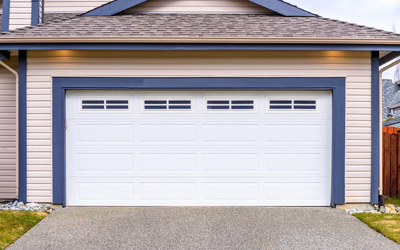 Overhead doors hold a lot of importance as it provides safety and security to your garage and material placed inside this. When choosing a garage door, keeping your budget in your mind is necessary, but you can't overlook the risks of having cheap garage doors.

High-Quality garage doors last for 20 to 30 years to come, prevent earlier damage or repair and provide high security. On the contrary, the cheap garage doors come with below risks.
Risk Associated With Cheap Garage Doors
Low Quality

The cheap garage doors are made of low-quality material which is not able to stand against severe weather conditions, and they will require repair over and over again.

Cheap Spare Parts

Cheap garage door parts feel it challenging to handle the heavy weight of your garage door, and they break down earlier. These parts have no idea when they are worn out and make your door fall.

Low Security

Due to low-quality material, these cheap overhead doors will be easy to a break-in by anyone and lead to theft.

High Maintenance Cost

Low-quality garage doors prone to several defects, earlier wear & tear of its parts, getting rust and more. Every time, you will have to consider to repair or replace the different parts of your garage door.
Expert's Help
Instead of choosing the cheap garage door, it is better to consult with the professional garage door experts who can help in selecting the right and budget-friendly overhead door.
At Peel Garage Doors, we are your local garage door company in Brampton that specializes in residential and commercial garage doors installation and repair. Feel free to reach us and discuss your requirements with our experts to get the right overhead door.