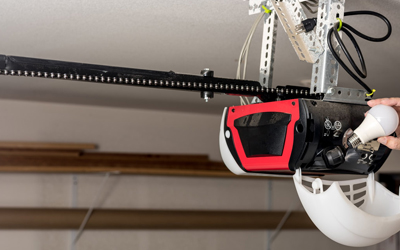 Garage door openers are a simple mechanism that remains last for many years to come. On average, its lifespan is 10 to 15 years, or you can extend its performance up to 20 years using some maintenance tips. But, you may need to replace your overhead door opener when it is creating problems.

If you neglect its maintenance, you may face some unnecessary problems. So, here are some good reasons to replace your door opener.
Automatic Reversal
If your garage door does not have a safety feature or its safety feature is no longer working then replacing the opener will be beneficial.
Quieter Operations
Is your garage door noisy? If yes, an overhead door that is operated via a chain drive often release the noise. You can install either the belt drive or screw drive garage door opener to reduce the noise.
Traditional Openers
Traditional overhead door opener can be vulnerable to thieves while the modern garage door openers that come with rolling code provide you with better security. You can change the code every-time you use the unit. But, thieve cannot duplicate the code.
Battery Backup
Power outage cause inability to operate the garage door opener. Nowadays, new openers come with a battery backup system that can kick in automatically on getting the power cut.
Keypad Entry
Keypad entry to access your garage is another way to improve the security. You may be able to install the keypad to your existing door. Moreover, you can operate your door by fingerprint detection and thus, you will not need to remember the code.
Now, if you are planning to replace your garage door opener, feel free to contact us at Peel Garage Doors in Brampton. We provide best-in-class services for all make and model of garage doors. Our certified technicians are available 24/7, call us anytime.