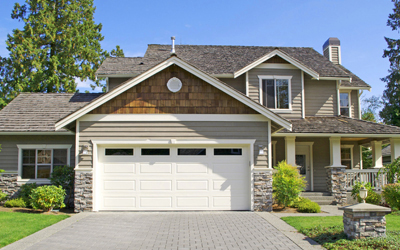 Several things are there that you should consider before selecting the ideal garage door for your home or office. The overhead doors come with various types of material and styles. Each door type has its benefits.

Selecting the right overhead door pays value to your cost. When you are choosing the garage door keep in mind its durability, functionality and other features. Following the below discussion, you will be able to select the door that suits your entire requirements:
Steel Garage Doors: If you are looking for low maintenance door then steel door is perfect for you. You can paint it any color that matches your home exterior.
Wood Garage Doors: The wooden door specialize in providing a warm appearance to your property. This door could be expensive, a natural insulator and reduces the need to add the insulation to your garage door, but such door requires frequent maintenance.
Aluminum Garage Doors: These doors are an affordable choice for every budget homeowner. Aluminum can be covered with vinyl to improve the texture and look of your door. Its most significant advantages are, it is light in weight and easy to operate manually. Moreover, it does not get the rust, but it can get the dents.
Fibreglass Doors: The door is lightweight, customizable and provides more protection than other types of doors. The only issue with this door type is, UV rays can dull its color.
After knowing the above information about the garage door various options, you will be able to choose the right door for your garage. If you need professionals assistance, then reach us at Peel Garage Doors. Our garage door experts in Brampton not only help you in choosing the right door but also provides installation, repair and maintenance services 24/7.