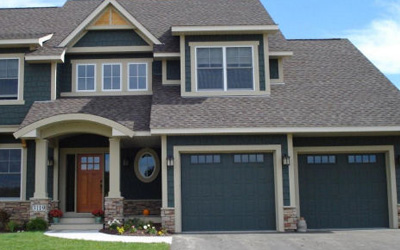 Replacing your existing overhead door with a new one is one of the quickest ways to enhance and increase the curb appeal of your home. Overhead doors provide security to your house and family members.
Is your garage door creating a problem while you open and close the door or impossible to lift it? If so, it is time to call a professional and replace the door with a new one that is easy to operate and maintain. A new overhead door does not only offer safe, secure and easy access to your garage, but also refresh the overall look of your premises.
Garage doors are available in various materials such as wood, steel, fiberglass, aluminum, and vinyl. Every material has some merits and shortcomings. Have a look at all these materials and after that make your decision to buy a new door.
Steel garage door: One of the most popular materials for overhead doors. This material is available at a very reasonable price. It is durable and requires low maintenance service. Steel garage doors are available in different styles and you can buy anyone that you like. It can be painted and these are insulated.
Wooden doors: Wood is the most beautiful door material which is liked by most of the homeowners. It provides a warm appearance to your house and these doors are meant to be painted. It means, if you want to paint your overhead door with your favorite color, you can easily paint it on your own. There is no doubt that these are attractive, but wood doors are expensive as compared to other materials.
Fiberglass doors: These doors provide a variety of architectural style that helps to improve the beauty of your premises. These doors are available at reasonable prices. The main benefits of installing a fiberglass door is, these doors are insulated and offer a cost effective way to have a look and feel of the wooden overhead door.
Aluminum garage door: Aluminum doors are lighter than steel and wooden doors. Wooden doors are heavier than other all materials. The quality of this material is rust proof and insulated. If you want to install an extra wide double door, aluminum is the right option for you. But it will easily dent. Means, if you have kids in your house or neighborhood, who play in the front of your garage, aluminum door is not good for you.
Vinyl overhead doorr: Vinyl doors are also known as kid proof door, because these doors are extremely hard to dent and break. Vinyl doors are very similar to fiberglass in construction. These doors are very durable, but vinyl doors come in a very few colors and designs.
Select a door that complements your premises. It is advisable that choose a door which is insulated. Sometimes homeowners think that a good looking door is better than an insulated door. It is a wrong decision made by them. You can talk with our professionals to know more about door materials.