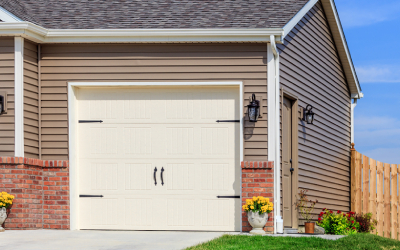 Your garage door holds a prominent position in your home, serving as a guardian for your possessions while also making a significant contribution to your property's overall curb appeal. If you want to upgrade your garage door, you're in the right place. In this blog post, we'll discuss how Peel Garage Doors can help you enhance your property's security and visual appeal.
Security Upgrades
Your garage is a potential intruder entry point, making security a top priority. Peel Garage Doors offers a range of security-focused services to safeguard your home:
Innovative Garage Door Openers: Consider upgrading to a smart garage door opener that enables remote monitoring and control of your garage door via your smartphone. You can receive real-time alerts and grant access to trusted individuals, enhancing security.
More substantial Materials: Consider garage doors made from robust materials like steel or reinforced wood composite. These materials provide added resistance against break-ins.
Advanced Locking Mechanisms: Explore advanced locking options, including smart locks and keypad entry systems. These modern locks offer convenience and heightened security.
Curb Appeal Enhancement
A beautiful garage door can significantly boost your home's curb appeal. Peel Garage Doors offers a variety of services to help you achieve an attractive and stylish look:
Custom Design Options: Choose from various designs, colors, and finishes to create a garage door that complements your home's architecture and personal style.
Decorative Hardware: Add decorative hardware like handles, hinges, and windows to give your garage door a distinct, elegant appearance.
Insulated Garage Doors: Not only do insulated doors improve energy efficiency, but they also come in various attractive styles that enhance curb appeal.
Maintenance and Repair
Regular maintenance is essential to keep your upgraded garage door in top condition. Peel Garage Doors offers maintenance services to ensure your investment performs optimally. Our expert technicians can promptly address any repairs, keeping your garage door safe and secure.
Professional Installation
Proper installation is critical, no matter how advanced or stylish your new garage door is. Peel Garage Doors' professional installation services ensure your door operates smoothly, efficiently, and safely.
Financing Options
Peel Garage Doors understands that upgrading your garage door is an investment. We provide adaptable financing solutions, making it more convenient for you to improve your home's security and enhance its curb appeal without causing financial strain.
Elevate your garage door with Peel Garage Doors and experience the advantages of enhanced security and a heightened curb appeal. Contact us today to schedule a consultation with our experts. We'll help you choose the perfect garage door and services to enhance the aesthetics and safety of your home.