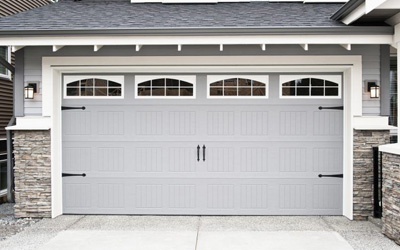 Are you planning to buy a new garage door? If yes, then there might be lot of questions coming in your mind. After all, it is the biggest investment you will be making for your home. It is utmost important to select the right garage door for your home or office in order to keep your family and employees secure and safe. Sectional garage doors are quite popular as they are versatile, robust and durable. They are an ideal option for people concerned about safety and security.
Sectional Door Operation
Sectional doors are built to last and you can rely on them for years to come. They have horizontal panels, connected with a series of hinges. At the hinges, the folding action takes place. The door opens to the upward direction into the horizontal frame attached below the ceiling. Make sure you maintain the pristine condition of the doors to enjoy their functioning for years to come.
Material
Sectional garage doors can be found in a variety of materials such as steel, fiberglass and wood. Before buying any material door, make sure you check the pros and cons of that material. Every material has its own pros and cons so choose it as per your requirement and climatic condition.
Advantages of Sectional Garage Doors

They are the best choice for homes with narrow driveways.
They can work perfectly even in limited spaces.
They add style and sophistication.
They perform smoothly for years to come.
If you are looking for garage door experts who can guide you the best about sectional garage doors, come to us. At Peel Garage Doors, we will help you choose the right garage door for your residential or commercial property.