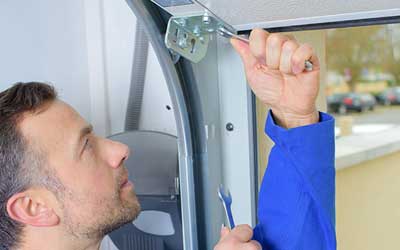 A noisy garage door not only irritates you but also indicates the malfunction signs. If you don't pay attention to your squeaking door, you may further get into trouble like premature wear of parts. Even your garage door may crash down and damage anything that comes beneath it.

So, when you find your garage door is releasing the weird noise, pay attention to it. There are primary 4 reasons behind the squeaking overhead door.
Lack Of Lubrication
A garage door is made of various moving parts which require lubricants. The dry parts can't run smoothly and cause noise when you operate it. So, you should lubricate your garage door moving parts to run it effortlessly.
Worn Out Spring
Worn out spring is another reason behind the noisy overhead door. When a spring becomes unable to handle the heavy garage door, it has to put more strength which results in delivering the noise.
Loose Nuts & Bolts
A little bit loose nuts and bolts in your garage door is a common problem. You can use the wrench to tighten up the loose nuts and bolts, but be careful as over tight components may not work correctly.
Unbalanced Door
If you find the unbalanced door is the reason behind the unpleasant noise while operating your door, then contact the professionals. Because, handling the unbalanced door on your own can be harmful to you.
In case, you find any a reason mentioned above behind a squeaking garage door, then leave this to be done by the professionals rather than DIY methods. At Peel Garage Doors, our team of highly trained and experienced garage door experts in Brampton can handle any problem of all make and model of garage doors. We are available 24/7, call us anytime to get same day services at a reasonable cost.