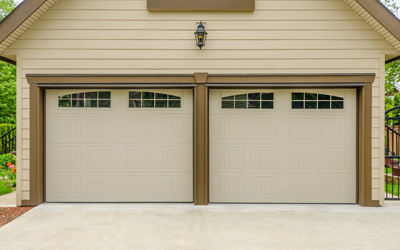 Extreme summers can be equally harsh on the natural and man made elements. Since the temperature rises to a high level, it can negatively affect your home exteriors right from the yards to roofs and garage doors.
Almost every home in Brampton has a garage which is protected and secured with a durable built overhead door. No matter, which door style or color you have installed, it is important to maintain it periodically to ensure a smooth door mechanism.
To make sure your overhead door won't degrade or deteriorate, it is important to protect it from the given summer elements:
Direct Sunlight
As the sun shines brightly in the day, the color and looks of your residential garage door may fade off due to the direct sunlight. If yours is a steel or aluminum door, it may become hot enough to touch because of the impact of sun rays. This may even result in the inefficiency of the electric components which in turn overpowers the door to open or close.
Electrical Outages
Power outages are quite common in the summers, especially due to frequent storms and short circuits. This limits the mechanism of automatic overhead doors which operates using electricity and remote control. In few cases, the high voltage current during the electrical storms may lead to a fault in any of the door components which needs to be repaired or replaced.
Extreme Temperatures
As garages are located in the exteriors, the whole day of direct sunlight can increase the interior temperature inside the garage. To control the unbearable heat, consider investing in insulation and install a weatherstrip under the door to prevent hot air from entering inside. With proper ventilation, not only the garage interiors but also the inner surface of your door will become cool.
So, these are the few summer elements that can deteriorate your overhead door material and performance. If you are planning to protect your door from the summer heat, contact our Brampton based licensed door technicians at Peel Garage Doors.