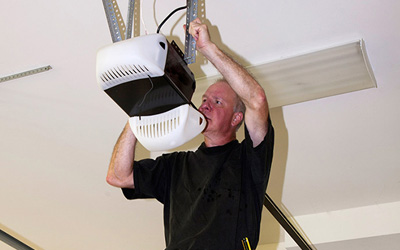 All the overhead doors are not same. Garage doors are available in several designs, shapes and styles. Some are contemporary and some of them are traditional. Does not matter which design and style you choose for your new overhead door. But if it is not properly installed, you will have a hard time operating it.
If you are one of them who thinks that all the doors are same, you are wrong. Because all doors are different from each other and requires different types of maintenance service. You might know there are several types of garage doors available in the market. No matter how large or big overhead door you have in your home, the proper installation is the main thing to consider. According to experts, poorly installed door can lead to serious injury, accident or even death. In order to prevent any type of injury or accident, make sure that you have properly installed door.
The door stops or closes before it is halfway up: The reason of this problem is a broken spring. Broken torsion springs are a very common overhead door problem. Torsion springs help the door in opening and closing. If there is a problem with them, it makes the door operate slower than usual. The problem is caused by poor installation. Improperly installed springs tend to wear, tear or break very easily.
Face difficulty to operate the door: Are you facing a difficulty when open and close the door? Is your door taking too much time to open and close than usual. If your answer is yes, remember these are the sign of improper installation. Hire a professional and reinstall them. Otherwise it leads to an injury or accident.
The door does not open and close properly: When your garage door deny to properly open and close, then there is some serious issue that you need to identify and fix it as soon as possible. You are making efforts to open and close the door, but you fail. In such situation, you should need to identify the issue or call an expert to inspect the door.
The door goes back up after the wall button is hit: You press the wall button to open and close the garage door, but it does not close properly. It indicates that you have a sensor malfunction problem. If you left it untreated, it can lead to many serious problems. So, it is important to hire a technician to inspect the issue and fix it.
It is true that your overhead door in the largest and the movable part of your home. But keep in mind one thing always, hire a garage door professional to install or repair the garage door. Otherwise, you can face a number of problems.