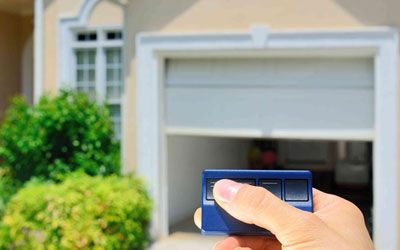 Modern garage doors are comparatively more easy to operate and energy efficient compared to the traditional ones. To further enhance the convenience and comfort, remote control mechanism plays a great role. It allows a homeowner to operate the door even without getting out of the car to press the wall control button.
Garage remote is a typical little electronic device that allows an easy door operation. Whenever the open button of the remote keypad is pressed, it sends out the infrared signals that are received by the electric opener. This triggers an action of opening or closing the overhead door.
There are few remote controls that come with a limitation of operating within a few meters of distance while others allow access from anywhere. In case, your door remote control isn't working despite being in the range, it's important to get it troubleshoot by experts.
Some ways to fix the faulty remote:
Check the Batteries
One of the probable cause behind the remote failure is weak or dead batteries. The average life of good quality batteries is around 4 to 5 months. After this period, they either become faulty or weak. To make sure that the remote performs efficiently for months, try choosing good quality batteries. Whenever your overhead door installation stops working, the foremost thing you should do is replacing the batteries with the new ones.
Check the Battery Contacts
Alike batteries, the wired or anode-cathode connections of a battery can also become faulty. Dirty, worn or wet contacts can inhibit the electrical current of the batteries from reaching the circuit board. This simultaneously leads to malfunctioning of the remote even when the batteries installed are brand new. Whenever your remote control stops working, check the contacts. If they look discolored, pitted or wet, allow them to dry using a blower.
Reset the Remote System
Remote controls consist of a small memory, like the one on small computers. Most of the times even a reset or reboot can fix the faulty remote mechanism. To reset a remote, remove the batteries for more than 30 seconds and re-install them again. On the receiver end, it is done by unplugging the element for 30 seconds before plugging it again.

These are the few ways to fix a faulty door opener remote. If your overhead door is not working as it previously does, consider calling our garage door repair experts at Peel Garage Doors for repairs.